Leverage Production Workforce Skills to Work Smarter.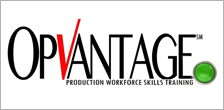 Minnesota is home to a diverse manufacturing community. From heavy metal foundries to nanotechnology manufacturing in clean room environments, production worker skills are valuable assets. The OpVantageSM training program provides production workers with the knowledge and skill necessary to secure a hiring advantage, whether seeking a new job or wanting to reinforce existing skills.
The OpVantage program starts with a Core Manufacturing Skills course to provide workers with the basic competencies necessary to be successful in a production environment, and more valuable to their current or future employer.
To complement the core skills course, four additional courses are available, each promoting a specialized skills topic:
COURSE TOPICS
OpVantage courses include a robust curriculum of core competencies relevant to current or future employment.
EVALUATION
Student performance is verified on written evaluations and hands-on skill demonstrations where appropriate.
Learn more
Contact us to learn more about our production workforce skills training program.