Becoming a Champion of Schematics, Symbols and Scores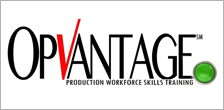 In a manufacturing environment, Quality Inspectors help ensure the finished product lives up to its specifications. Whether approving source materials, checking to make sure production machinery is performing properly, or testing items fresh off the assembly line, an eye for detail is key.
In this course, students will learn to perform inspections typically done by a Quality Inspector in a manufacturing setting. Through this targeted training program, Industrial Insite prepares students with the unique knowledge and skills to secure a hiring advantage.
Quality Inspectors regularly interpret technical information. They are skilled at collecting data and performing mathematical calculations and conversions. To prepare for this role, Industrial Insite students learn how to use tables and graphs, obtain prints/schematics, interpret symbols, perform geometric dimensioning and tolerancing, and more. They also get hands-on experience using technical instruments such as depth gauges, optical comparators, micrometers, calipers and others.
Industrial Insite's 40-hour Quality Inspector certification program complements the curriculum presented in our Core Manufacturing Skills course (OpVantageSM), which provides workers with the core competencies necessary to be successful in a production environment. The Quality Inspector course dives even deeper, with content that is especially relevant for current or future employment.
Employers wishing to enhance the knowledge of their existing workforce can choose to deliver the entire course or only those topics that are most relevant to your plant. Curriculum can be customized to specific on-site processes and requirements.
Students demonstrate an understanding of general Quality Inspector position responsibilities, definitions, required communications and general safety considerations.
Students will learn the ability to interpret and obtain technical information, to include performing mathematical calculation and conversions. Specific topics are number functions and conversions, tables and graphs, symbols, print specifications, tolerances, sealing surfaces and others.
Students demonstrate the ability to take measurements and readings of parts and equipment. Tools include depth gauges, optical comparators, micrometers, calipers, pin gauges, and others. Geometric dimensioning and tolerancing is also presented.
Students learn about the quality process and the ability to document information obtained from quality inspections. Curriculum includes statistical process control, continuous improvement, documentation requirements, tolerance readings, software data entry and others.
Students will demonstrate the ability to understand and control material and audit processes. Included are controlled work packages and procedures, receipt inspection, tagging, rejection and return to stock, and others.
CLASS PRE-REQUISITE
Completion of the OpVantageSM Core Manufacturing Skills Course (80 hours) or equivalent.
Cleanroom Operator Training
Industrial Insite offers Cleanroom Operators the skills they need to shine. Contact us today to see how we can help train your workers to contribute in the most sensitive manufacturing environments.