Developing Hands-on Skills
for Diverse Applications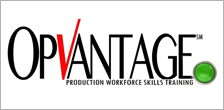 Soldering is a skillset that is used in almost every corner of industry—from printed circuit board assembly and electrical wiring to plumbing and auto manufacturing and repair.
By offering the latest training and certification in soldering, Industrial Insite makes sure workers have the knowledge and hands-on experience that will make them more valuable to their current employer or get them hired in an in-high-demand job. Whether it's working as a medical device production assembler or soldering components for an electronics manufacturer, students will learn the skills necessary to do the job well.
Students who complete the Production Soldering Assembler course will understand the requirements and gain certification in the two most common IPC specifications used throughout the electronics assembly industry. In addition, they will demonstrate hands-on proficiency in both basic and fine pitch soldering techniques.
Employers wishing to enhance the knowledge of their workforce can choose to deliver the entire course or only those topics that are most relevant to their plant. Curriculum can be customized to specific on-site processes and requirements.
This 160-hour course covers the following topics:
Students who successfully demonstrate performance on written evaluations and hands-on skills requirements receive a Soldering Proficiency Course Certificate and an IPC Certificate for each specification. IPC Certificates are valid for two years.
CLASS PRE-REQUISITE
Completion of the OpVantageSM Core Manufacturing Skills Course (80 hours) or equivalent.
Learn more
When it comes to workforce training, Industrial Insite is as strong as steel yet flexible enough to customize a solution for your specific need. Contact us to learn more about Soldering Proficiency Training with demonstrated results.